North India's No 1 Defence Academy
North India's No 1 Defence Academy preparing students from all over India for Defence Exam and SSB. Academy ensures the balance of Fun learning with entertainment. Sunday on 19 June 2022 Cadets of Chandigarh Defence Academy had a refreshing and rejuvenating day by having a trip to Siswan Dam. They had a fun and enjoyed the trip a lot, even they met a media team which had an interaction with cadets and enjoyed the day the most, which is evident below. Mind needs to feel refreshing and SSB need the trait of all rounder which is possible to have Officer Like Qualities only when they explore the environment. Cadets enthusiastically gave the shoutout :- "Adventure was Worthwhile "
Chandigarh Defence Academy a well known name in the field of Defence Educations where students are prepared for NDA & NA along with schooling, NCERT coaching and outstanding hostel facilities is also available. Topper of the UPSC NDA & NA 2022 believes in smart study and solving Practice Paper and attempting Mock test being the key to success. And the Topper from Chandigarh Defence Academy Gurjyot Walia who is a top scorer and among the top 8 with highest marks in SSB NDA. While interaction with him he conveyed his gratitude towards Wing Cdr I S Chahal Sir, Rahul Sir and whole SSB CDA team. He said to SSB Team - Special Thanks for excellent knowledge, techniques and effective way of teaching. He said he was able to achieve his goal because of Chahal sir GTO technique and Pragmatic solution which helped him crack NDA in his first attempt". Chandigarh Defence Academy has trained and experienced Faculty with 20 plus years experience in preparation for UPSC NDA & NA coaching .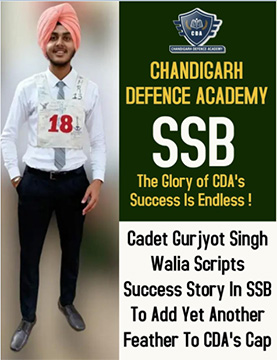 UPSC NDA & NA ANNUAL CALENDAR 2023 RELEASED
Union Public Service Commission has released the annual exam calendar 2023 for NDA & NA. The dates for notification, online registration and exam have been announced which would be of great help to the candidates. NDA & NA is conducted two times a year for the interested candidates in admission to Army, Navy and Air force wings of NDA & Indian Naval Academy Courses (INAC). According to UPSC Calendar NDA I will be held on 16th April & NDA II is scheduled for 3rd September 2023. Selection process 2 level i.e through a pen-paper based exam of Mathematics and GAT and then SSB Interview. Click here for details and official calendar or
contact on 8544888200, 8544888210, 8544888280
UPSC DEFECE EXAM DATE,2022:CHECK SCHEDULE
UPSC DEFECE EXAM DATE,2022:CHECK SCHEDULE NDA & NA /CDS exam dates are released on the official website of UPSC & aspirants are on wing with Defence Preparation. NDA & NA 2 & CDS 2, 2022 exam date is on September 04,2022. Notification for applying for Defence exam and joining in Indian Army, Indian Airforce, Indian Navy and Naval Academy will be released on 18 May,2022 and last date for filling the form is 14 June,2022. Forms are to be filled in two part first is Rregistration and last part is documentation. For further details about the Exam of form filling
please contact: 7814052879